JOIN ALLSTARS CASTING TODAY
How to become a TV or film extra now Liverpool's the Hollywood of the north READ THE ARTICLE HERE
Telephone 07484 881092
Max Ainsworth
An exciting start to 2022 as we see our actor MAX AINSWORTH in the latest NEW BALANCE COMMERCIAL. Well done Max!
https://m.youtube.com/watch?v=fEnKkFbUiz4
Michael Moran
Meet the teenage Bootle actor who's a Pot Noodle advert sensation. View full article
CLAPPERBOARDS
LIVERPOOL ECHO, Merseyside's best new stage and screen talent celebrated at Clapperboard Awards Ceremony, ALLSTARS CASTING was represented by Kane Weaver and Lauren McQueen. View full article
Abby Mavers
WATERLOO ROAD, Catch our Actress Abby Mavers on Waterloo Road, Thursdays at 8pm BBC1.  See the arrival of the BARRY family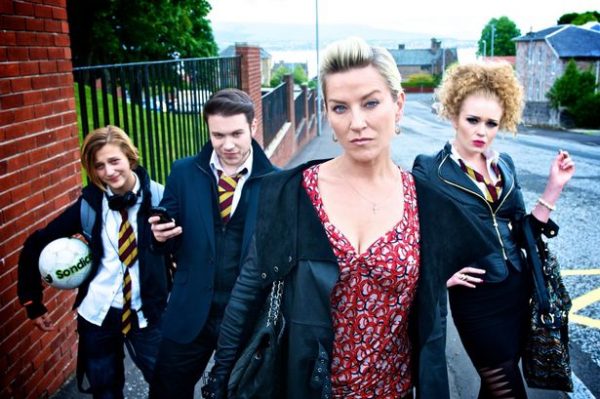 Abby Mavers
Our actress Abby Mavers attending the 'OUR HEROES' awards
Lauren McQueen
LIVERPOOL ECHO, Liverpool teen actress Lauren McQueen to appear on Sky One's Little Crackers.  View full article
Abby Mavers
Abby was also recently snapped with boy band Phrasement from cologne in germany at the Cavern pub in Liverpool
RITA, SUE & BOB TOO!
Wednesday 12th to Sunday 16th October 2011 at the St Helens Theatre Royal
Regal Entertainments and St Helens Theatre Royal proudly present a brand new stage version of the hilarious 1987 cult movie 'Rita, Sue and Bob Too!' from Wednesday 12 – Sunday 16 October.
STARRING TINA MALONE (Shameless)
Directed by Sylvie Gatrill (The Salon and The Ciggie Run) the new stage version is headlined by Liverpool Shameless star Tina Malone as Bob's wife Michelle and also stars her real-life daughter Dannielle Malone (Hollyoaks) as Rita and her husband Paul Malone playing the role of Sam. The great cast also includes Abby Mavers as Sue, Franny Bennett as Bob, Angela Simms as Mum and the hilarious comedian Mickey Finn as Dad.
Rita and Sue are two working class girls from a rundown council estate, about to finish their final year at school, they are generally disillusioned with life and their circumstances. In their spare time, they earn money babysitting for Bob and Michelle, a relatively affluent couple living in a large detached house in a more desirable part of town. Without Michelle's knowledge, Bob embarks on an affair with both Rita and Sue, who take it in turns to have sex with him in his car in the countryside. Michelle eventually finds out and leaves Bob but not before confronting Rita and Sue outside their homes and in front of their families and neighbours. When Bob later develops a preference for Rita, the two girls fall out. Rita then decides to move in with Bob, whilst Sue begins seeing somebody else. Rita and Sue then reconcile and Sue moves in with Rita and Bob and the three embark on a ménage à trois.
Rita, Sue and Bob Too! was written by Andrea Dunbar who wrote her first play The Arbor in 1977 at the age of 15, which was premiered in 1980 at London's Royal Court Theatre, directed by Max Stafford-Clark. It won the Young Writers' Festival, and was later extended and performed in New York. Dunbar was quickly commissioned to write a follow-up work, creating Rita, Sue and Bob Too, first performed in 1982. Rita, Sue and Bob Too was adapted for the cinema and was filmed in 1986 by Alan Clarke. The film created considerable controversy on the Buttershaw estate, where Dunbar lived, because of its negative portrayal of the area. A single mother with three children by different men, she became an increasingly heavy drinker. In 1990 she died of a brain haemorrhage at the age of 29.
The original Film Four low budget movie starred George Costigan, Lesley Sharpe, Siobhan Finneran and Michelle Holmes and became an instant success, the band 'Black Lace' also appeared in the film performing their song 'Having a Gangbang' at a nightclub which became the soundtrack to the movie.
With a side-splittingly funny script, a great cast and bursting with all the best 80's music, this is one hilarious night out you can't afford to miss!
6 PERFORMANCES ONLY!
Our Day Out
The perfect day out for the class that always gets left behind.
Mrs Kay's Progress Class are all on board and bound for Alton Towers – yes, Alton Towers! But then Mr Briggs gets on board…
Well Done to Connor Dempsey, Emily Hobson, Hebron Tedros and Louis Atherton for taking part in the National Trust film 'Forthlin Sessions'
Read More